Turn the Tide in Your Favor with Revolutionary Inbound Call Center Services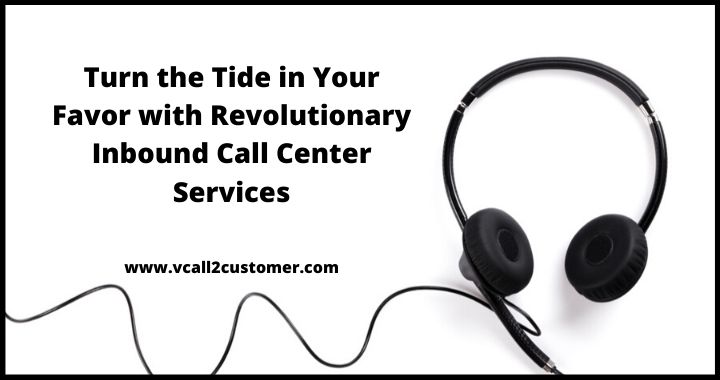 March 4, 2020
The business scene of today is riddled with competition. The fact that many companies are trading in same commodities/services has put the power right in the hands of customers. They have the option to choose from a number of offerings. And, they are liable to change their supplier at the first glimpse of incompetence. Whether it is the lacking quality of product/service or an inability to provide accurate and timely support, you are likely to lose customers faster than you can ever imagine. Therefore, you need to focus on your inbound call center services if you want to turn the tide in your favor.
The Advantages of Exceptional Inbound Services
Inbound services can be the difference between success and failure of a business operation. Have a look at some of the advantages of exceptional inbound call center services:
Higher level of customer satisfaction maintained over a long-term
In-house call center operations may not always deliver the results you want. This happens because most on-premise inbound call center services are run as an afterthought. Even the best efforts by inexperienced agents might not be enough because they do not understand customers' pulse. In contrast, seasoned professionals manning the phone stations can make a huge difference. They have time-tested skills and intuitive understanding of customers' requirements, which helps a great deal in maintaining a higher level of customer satisfaction.
Access to important call center tools
Processes like inbound answering services require quality software for ensuring efficient and accurate delivery of customer services. Both IVR and CRM form an essential part of call center operations, and you get them as part of the contractual agreement with your call center vendor. A CRM integrated with pertinent databases allows agents to access customer information in real-time. Therefore, they are able to manage the calls in a better way and provide superlative experience to the customers calling in. Also, a cutting-edge IVR provides better navigational experience to the customers. Moreover, you have the option to integrate custom messages that can be extremely useful in certain situations. For example, in case of regional outage you can insert a message in the IVR system that informs customers about the present situation. Thus, the traffic coming towards the agents is reduced.
Sharing of responsibility
When you are in charge of the whole inbound services process, you feel the extra pressure of keeping up the level of support. This puts additional burden on your shoulder and prevents you from innovating the core products and services. But, finding the right vendor can free you from this additional responsibility. All you have to do is pre-define the SLAs and the liability of service delivery would fall on the vendor.
Scalability exactly as per requirement
Most inbound call center services processes fall flat on their face because of an inability to scale. However, outsourcing can be a great help when it comes to scalability. As outsourcing vendors already have many agents on their payroll managing different processes, they can assign the required additional workforce at any time. Hence, your HR department is freed up of the unenviable task of hiring and firing employees.
Availability of a variety of inbound call center services
Inbound call center services requirement can be different for different businesses. From helpdesk to customer care to order processing, you would require specialists in every domain in order to achieve the desired results. To overcome this hassle of managing separate departments, you have the option to employ inbound services from a reputed vendor like Vcare.
Vcare has been operational in the inbound call center services domain for almost two decades. It runs a 24x7x365 operation and has experienced workforce across every department to ensure high quality customer service.