5 Steps to Simplify Selection of Call Center Outsourcing Companies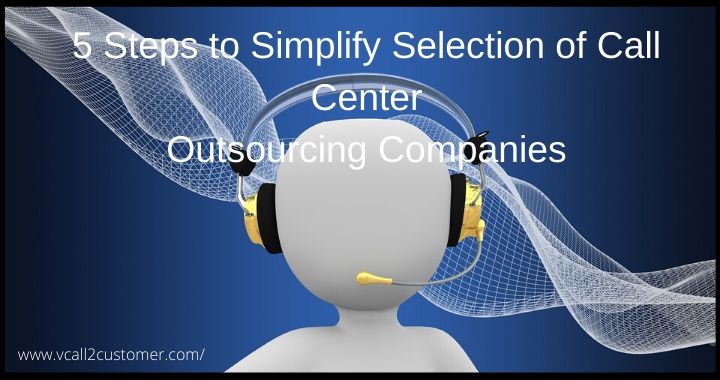 April 27, 2020
Call centers have become an undetachable part of business operations. Not only they serve as the primary mode of support, they also play a major role in shaping the image of a business operation. This is the main reason why you need to be extra careful while choosing call center outsourcing companies for representing your business.
Simple Tips to Make Complex Call Center Outsourcing Easy
Have a look at some amazing tips that can simplify the vendor selection process for you:
Find the right balance between cost and quality
This is easier said than done, but it is still very much possible. The best way to do this is by recruiting a vendor in a developing country like India. As companies in India offer their services at a cheaper rate than the developed world due to low cost of labor, you can maintain the quality of your call center while reducing the cost. Indian call center outsourcing companies are known for their disciplined workforce and high-quality English speakers.
Give preference to the call center software
Software is becoming more and more important day by day. In case of call centers, its importance can never be denied. Cutting-edge IVR solutions are used for better call routing and a more personalized experience. CRM solutions are getting better and better. Customizability of IVR and CRM provides more room for personalization of calls. Data fetching times are dropping down, and agents are able to conduct the call flow much better due to these highly-advanced solutions. Therefore, while choosing call center outsourcing companies, you need to prioritize those vendors who already have the best software solutions at their disposal. If you can find a vendor with in-house call center software development capabilities, then you are all set.
Pay attention to data security
How well your outsourcing partner safeguards the data ultimately decides how long your call center operation will be sustainable. Any data breach or data loss to malicious hack attacks can result in quick customer attrition and destruction of brand reputation. Always choose a vendor that constantly keeps itself updated by employing the latest security measures.
Look for experienced managers who can improvise
Call center agents come and go, but managers are the pillars upon which a call center operation stands. A manager that has experience of many past projects will know how to improvise and solve issues when things become difficult. They command more respect from the agents, and hence they are able to motivate them when the chips are down.
Look for scalable call center outsourcing companies
Call center outsourcing companies can become a major liability if they do not have what it takes to scale the business according to requirements. You do not want to run here and there looking for a new vendor whenever new customers are added to your network. A competent vendor that has a perennial supply of call center talent across all verticals is needed to prevent last minute hassles.
Vcare is one of the best call center outsourcing companies with decades of experience and in-house software development capability. At Vcare, we take security of data very seriously and provide completely reliable and scalable inbound, outbound and back office support services.